What Are the Most Beautiful Libraries in The World?

There are many exquisite libraries around the world that create a sanctuary like place to revel in an abundance of knowledge and stories.
There is a richness of beauty that lies in todays modern libraries and some of the oldest libraries in history. With the exterior and interior design and architecture making these libraries a cathedral for reading.
Here is a list of libraries that are not only a place for book lovers to enjoy, but tourist attractions to see the incredible architecture and history that lives within the walls of some of the most amazing libraries in the world.
The State Library of New South Wales – Australia

Established in 1826, The State Library of New South Wales (NSW) is the oldest library in Australia. The most famous part of the library is the Mitchell Wing, named after David Scott Mitchell, which was completed in 1910. It houses the Mitchell Wing Library reading rooms, work areas and galleries, with library shelves filled with Australian history including original journals of Captain James Cook, the British explorer who achieved the first recorded European contact with Australia. The State Library of NSW was listed on the NSW State Heritage Register in 1999 due to its importance of cultural and natural history.
Stuttgart City Library – Germany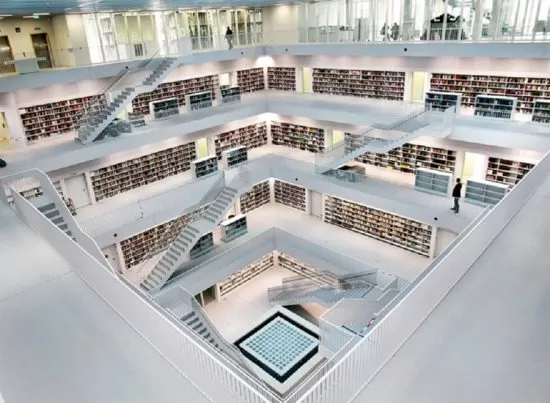 Stuttgart City Library is the home of nine-stories worth of literature and has been named one of the most beautiful libraries in the world. Its minimalistic design and modern library furniture create an amazing place for those who need an escape. The library is shaped like an upside-down pyramid, with an open multi-floor reading room, creating a space like no one has ever seen before. The interior combines clean lines and white surfaces, allowing the thousands of books to fill the library with colour.
Tianjin Binhai Library – China

Opened in October 2017, the Tianjin Binhai Library is one of the youngest, most exquisite libraries in the world. Its most incredible feature is the large spherical auditorium in the centre, surrounded by rows of library shelving that not only holds 1.2 million books, but also acts as stairs and seating. Due to the beauty and nature of this library, it has become one of the largest tourist attractions in Tianjin, receiving over 10,000 visitors per day when it originally opened.
Abbey Library of Saint Gall – Switzerland

Dating back to the 8th Century, the Abbey Library of Saint Gall is considered one of the most important medieval monastic libraries in the world. The library collection is the oldest in Switzerland. With magnificent mural's painted on the ceiling and historical library shelving, this Switzerland library is a feast for the eyes. Although the library is open to the public, any of its 160,000 books that were printed prior to 1900 can only be read in the reading room. This historic library was designated a UNESCO World Heritage site in 1983.
---