Design Tips for Your School Library

School libraries become a haven for students, therefore it is important to consider a design and layout with furniture that supports different types of learning.
With the progression of technology changing the way that students learn, it is important that schools create a space for students that compliment the use of technology as well as traditional books.
Designing a library can become complicated as you need to consider all the vital factors that a student needs to enhance their learning. Therefore, we have designed a list of tips that could help you create a functional library.
Create a space for teaching and learning

When designing a school library, it is important to consider teaching and learning goals. This is critical to evaluate your space and ensure that the library is not only devoted to books on library shelves, but also provides various learning spaces with media technology, offices and teaching areas. It is also essential to take under consideration that libraries are also a space for students to study and have access to information in a place other than the traditional classroom. Therefore, providing various spaces and comfortable library furniture is crucial to creating an atmosphere that is ideal for concentration and learning.
Design a space for individuals study

Libraries are a great place for quiet individual study. Hence, it is essential that the school library provides a workplace for students to escape the noise and concentrate on their work. In these spaces ensure that there are individual chairs and desks, as well as access to power points to charge their tablets or laptops that are needed for research. Make sure that these spaces are close to any library shelving with books about certain subjects and information that are part of the student's curriculum.
Create a collaborative environment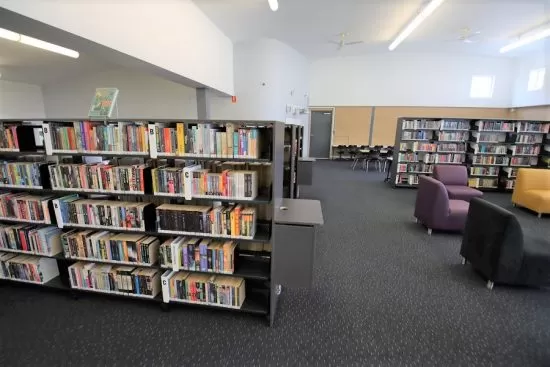 Libraries have also become a place for socialising and collaborative work. Design study spaces for students to use with their peers by providing relaxed library furniture including lounges and soft seating. This allows students to have a relaxing place to gather and enhance their teamworking skills. Ensure that your library shelving is easily accessible and spread out throughout the whole library for students to collaboratively access information for group projects. It is also important to consider what kind of tables to use in these study areas, ensure that there is enough space for both small and large groups to gather and work comfortably.
Here at Abax Kingfisher we can supply the most remarkable lounges, library shelves and students' tables to create a fun and innovative environment.
---